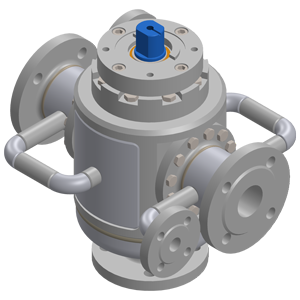 ANTRIEBE

In addition to hand-operated ball valves (operated using a hand lever, hand wheel or worm gear), the automation of the valves is also part of the Perrin portfolio. Based on the specifications and customer requirements, the desired drives / drive sizes are designed using Perrin's own developed 'in-house' calculation program.
PERRIN selection of Drive Unit & Accessories
Depending on the project and application, we deliver drive and accessory products according to customer requirements or – if not specified by the customer – with our preferred suppliers. The accessories are attached to the drives using existing drive connections or piping. The complete unit – consisting of ball valve, actuator and accessories – is routinely subjected to a functional test before delivery.
PERRIN provides the following types of Drive Units as Standard
Pneumatic Actuators (Double-Acting or Single-Acting)
Standard PERRIN Accessories for the Drive Units
Heating Jacket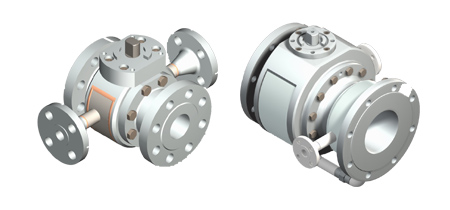 Certain substances, such as sulphur, wax and tar have a tendency to crystallize, become viscous or harden due to temperature loss. Heating systems are used in pipes / fittings to guarantee an easy flow crucial for conveying the substances needed.
PERRIN has 2 Standard designs
of Heating Jacket for this purpose:
Body Heating
Welded 'Double Jacket' around the body

Heating Jacket 'Materials' and pressure rating of 'Connections' to accommodate the particular heating medium

Especially well-suited for the smaller sizes of ball valve with short installation lengths
Intensive Heating
Welded 'Double Jacket' around the body and port

Piped Connection between body and port jackets, if necessary

Heating Jacket 'Materials'and pressure rating of 'Connections'to accommodate the particular heating medium.

Particularly well-suited for ball valves with long installation lengths / ports, since a large area of the ball valve can be covered with the heating jacket
Additional 'Special' solutions from PERRIN
'Oversized' pipeline connection flanges on the ball valves, providing an increased heating area

Heating systems that encompass and heat the complete ball valve
(Detailed information available on request)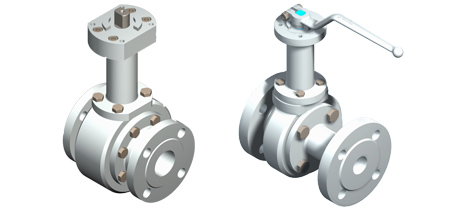 In many industrial applications the pipelines / fittings must be insulated in order to prevent energy losses and/or to minimize temperature losses of heated media. Spindle Extensions are necessary in order to be able to install insulation around the ball valves. With the attachment of Spindle Extensions, the operating devices (Hand lever, Gearbox, Actuator) can be positioned outside the pipeline insulation. The Spindle Extension 'Length'is determined by the thickness of insulation material.
PERRIN has 2 Standard designs
of Spindle Extension for this purpose:
Standard
'Standard DIN/ISO' Spindle Extension 'Unit'
Extension 'Unit' comprising of Stem and Housing

Spindle Extension mounted directly onto the existing DIN/ISO connection of the Ball valve

The gland packing remains in the ball valve around the existing Stem

'Units' can be retrofitted in-situ at any time

DIN/ISO, drives or other attachments can be easily mounted directly onto the Spindle Extension

Length of the Standard Stem Extension = SG DIN/ISO = 100 mm, other lengths available on request

Standard Integrated Stem Extension
Integrated Stem Extension
This Extension encompasses an elongated ball valve stem (1-piece) / stem housing

The gland packing is relocated into the upper section of the Stem Extension packing, which moves it to the furthest point from the interior of the pipeline

This design is predominantly used in low- or high-temperature applications

The length of Stem Extension depending on the application temperature / customer specification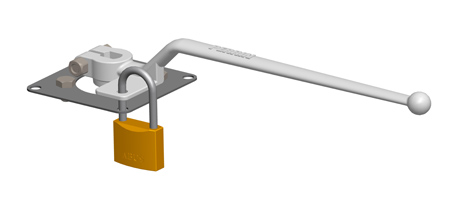 The PERRIN Standard Locking Unit is designed to lock a ball valve in the open and/or closed position. Thus preventing any unauthorized accidental operation.
PERRIN Standard Locking Unit
The Locking Unit can be easily mounted directly on the existing DIN/ISO 'top-works' connection

Units can be retrofitting in-situ at any time

Commercially available padlocks are not included in the standard scope of supply, but can be provided on request
Additional 'Special' solutions from PERRIN
More elaborate 'Interlocking Systems' available on request, e.g. to ensure a defined sequence of switching operations between multiple ball valves.
SPRING-LOADED
CLOSURE UNITS ('DEAD MAN'S HANDLE')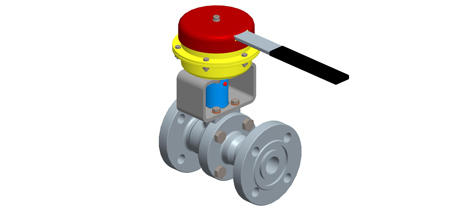 Spring-Mounted Closing Units ('Dead Man Units') on manually operated ball valves, are designed to ensure a ball valve is automatically moved to a designated end position / safety position, should the switching process be unintentionally interrupted (e.g. due to loss of consciousness of the Operator).
Perrin Standard Lösung
Design of a standard spring closing unit for small DN

Max. Torque ball valve 50 Nm

Mounting spring closing unit on ball valve by means of mounting kit
Additional Special solutions from PERRIN
Oil-dampened units are available, for the manual operation of the larger sizes / torques (detailed information available on request)